Yet poor Buddy, is "Deaf, Blind, unable to Walk and has to wear Diapers." Buddy even has to be carried everywhere.
See Buddy in picture below, doesn't it appear Buddy is enduring a slow, agonizing death?
Shame on YOU Los Angeles Animal Control with being derelict to actually Protecting Buddy from Animal Cruelty!
Buddy needs your better human hand to sign this Petition.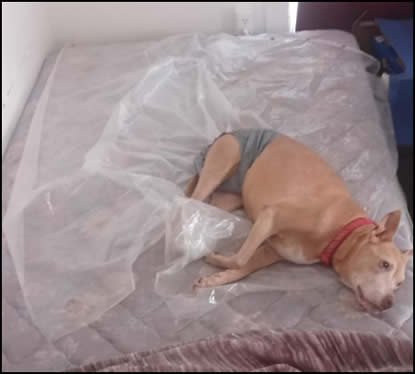 Watch Video that shows Buddy having to sleep in his own feces and urine.  Click on the below source Link – Warning Graphic Video:
But for some reason the Los Angeles County Animal Control, does not see what you and I are witnessing of Animal Cruelty against Buddy.
Animal Control has been bamboozled by Criminal Trespasser Conny. If Animal Control was living up to its own mission in helping with wellness checks,Buddy would have already been provided a gentle, pain-free passing.
Sign the Petition to have Buddy removed from Animal Cruelty by his purported owner named:
Sign this Petition to Demand Animal Control do the right thing and remove Buddy from Conny C. committing Animal Cruelty against precious Buddy!
PETITION (Stop Animal Cruelty)–to Buddy dog who has NO Voiceand falsely claimed as a "Service Dog."
0
Signatures
7
---