Arizona Supreme Court: Your Wrong, time to make Right.  Remove the Excessive Sanction against Rachel Alexander, Lisa Aubuchon, Andrew Thomas and Reinstate their Arizona Attorneys license it's time!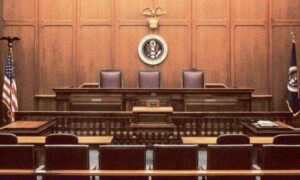 Findings reveal the Arizona Supreme Court has weaponized and imposed a $101,292.75 sanctioned against Rachel Alexander, Lisa Aubuchon and Andrew Thomas. The sanction was imposed under Supreme Court Rule 60(b).  
Moffatt Media urges reversal of the $101k+ sanction (fine), because it violates the Eighth Amendment of the U.S. Constitution related to "excessive fines," among other issues.
Surprisingly the Supreme Court's weaponization began by abusing its power with creating and also imposing administrative Supreme Court Rule 51, de facto law.  
Rule 51 intentionally created another Supreme Court Judge-Justice Seat in conflict with Arizona's Constitution for Judicial Appointments.  Remember Courts don't create laws, they interpret and decide laws!
More importantly, Supreme Court Rule 51,  has NEVER  been approved by ANY Arizona Governor, Arizona Legislators nor adopted into law.  Rule 51 continues to be weaponized against Alexander, Aubuchon, Thomas, Arizona Lawyers and other persons.

Essentially the Supreme Court of  Arizona has committed Prosecutorial Misconduct, by inducing Rule 51 weaponization schemes in the form of  "Canceling Out," First Amendment Protections against All3: (Alexander, Aubuchon & Thomas).  …
Keeping in mind, no state including Arizona, can modify the Bill of Rights First Amendment Constitutional Protections without Two-Thirds Members of Congress or Two-Thirds Arizona Legislatures.  
But the Arizona Judiciary Legislatures did attempt to do the right thing and recommended that the A​rizona Supreme Court ​implement First Amendment Protections.   
However, the ​Supreme Court of Arizona continues to give a "double barrel middle finger" to the Arizona Judiciary Legislatures, by refusing to implement (restore)  First Amendment Protections. 
The failure by the Supreme Court of Arizona not to uphold and (restore) First Amendment Protections does in fact have a chilling adverse impact on Free Speech.

Consequently, maybe it's time the Federal Government intervenes and impose Sanctions on the State of ​Arizona and ​the State Supreme Court of Arizona, for intentionally removing First Amendment Protections against All3: Alexander, Aubuchon & Thomas … 
"No matter what defense motions we submitted, no matter what evidence we submitted each and every single piece of defense evidence and discovery offered, were all "DENIED" by the Court." ~ Rachel Alexander 
Moffatt Media's Recommendation: 
The Supreme Court's excessive Sanctions against Alexander Aubuchon Thomas masked as: Costs and Expenses should be removed, because they did the right thing to investigate Maricopa County Arizona (Phoenix), $340 Mil (South Court Tower), Courthouse, that should have not escaped Voter Approval. 
###