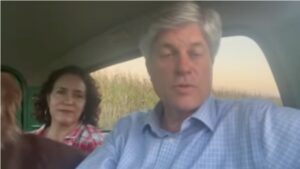 Photo Credit: YOUTUBE https://youtu.be/VHcIBNazStw
Sentencing News – Politics Congress

Moffatt Media, Palmdale, California
FOR IMMEDIATE RELEASE
Moffatt Media First PR Media Company to Recommend Jeff Fortenberry receive "Community Service in Lieu of Prison"
Stanley Blumenfeld, Judge with the United States District Court – Central District,  was courageous in doing the right thing by Sentencing Fortenberry "320 hours of Community Service," …  which is far better served to Fortenberry, Taxpayers and Society.  Additionally Fortenberry will be on Probation for two years and fined $25k.  Thus Fortenberry plans to Appeal his Sentencing imposed today.
Judge Blumenfeld and our legal community have to be aware that within the Indictment against Fortenberry, he was charged with False Statements under an outdated statute 18 U.S. Code §1001.  The same outdated statute that would have imposed  lopsided justice of "Mandatory Maximum Sentencing:" 15 years in prison (5 years x 3 felony counts) =15 years, that Fortenberry has now avoided thanks to Honorable Judge Blumenfeld.
Former Congressman Jeff Fortenberry did give this statement:  "All I've ever wanted to do is serve my country and try to help people. I am grateful for over 20 years of public service, and I'm proud of my record of accomplishments for Nebraska and for America.
I am thankful Judge Blumenfeld took the time to learn about who I am and what I have done in my life. And I am grateful he recognized that 'by all accounts' I am a man of 'exceptional character.' I was humbled today when the Judge noted that the testimony, including from government witnesses, established my honesty and integrity.
Having said that, this is a case that never should have been brought; and certainly not in California. As the Judge explained today, I knew nothing about the conspiracy to illegally funnel money to my campaign. I was kept in the dark about it, just like other candidates who received similar illegal campaign contributions. I trusted the FBI agents and prosecutors from the Department of Justice. They took advantage of that trust.
I will be appealing this verdict. We are continuing the fight for fairness that we've waged throughout this process. The issues at stake are much bigger than me. This case shows how the federal false statements statute can be weaponized by FBI and DOJ officials in a way Congress could not have contemplated when it was enacted and that it can be used to destroy the lives of even the most honorable people. On appeal, I will seek to change the way this dangerous statute is applied so it is less subject to abuse by the FBI and DOJ in the future.
This entire matter has been deeply traumatic for me and my family, but we're still here, still standing. I'm grateful for the tremendous outpouring of support from friends all over the world. I'm especially grateful for the love and support of my family."
Now as a Congressman who understands the absolute abuse of power brought by a select few corrupt individuals within the Justice Dept … my heart goes out to Congressman Fortenberry and his family for the injustice they have suffered," said Rep. Rick Renzi
Congress, it is time to bring more attention to lopsided justice, federal "Mandatory Maximum Sentencing," laws, especially outdated statutes such as 18 U.S. Code §1001.
Parting Public Interest Concern Question: Why did the Indictment fail to indicate if Grand Jurors and Prosecutors had criminally charged Fortenberry under 18 U.S. Code §1001, the old law of 1948 or new law of 1996?
###