(Short Press Release)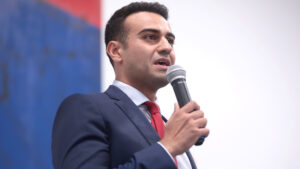 Did you know that purported Judge Lee F. Jantzen is NOT constitutionally seated?  Jantzen TERMED OUT 2019.
Decisions and Orders issued by Judge Jantzen in the matter of Abe Hamadeh's Election Contest are INVALID.
Moffatt Media's Findings reveal Jan Brewer, Governor in 2009 was the first and last governor to Appoint Jantzen.
Jantzen did win his judicial seat unopposed in years: 2010 and 2014.
But Decisions and Orders issued now by Jantzen in Abe Hamadeh's Election Contest are NOT VALID.  For these reasons should grant Hamadeh with a New Trial as requested and reassignment with a judge that is constitutionally seated.
Jantzen TERMED OUT means Jantzen is also operating from the bench on an expired "Loyalty Oath of Office."  TERMED OUT and without a valid Loyalty Oath Decisions and orders are completely void.
MAJOR PROBLEM
Attorney's for Hamadeh more than likely will NOT raise the issue that purported Judge Jantzen is not constitutionally seated on the Mohave County Superior Court.
Even decisions and orders issued by Jantzen will probably NOT be constitutionally challenged as Void Ab Initio, because Attorney's for Hamadeh, they too are defined as Court Officers.
Attorney's also known as Court Officers especially in Arizona have lost their First Amendment Freedom of Speech Constitutional Protective Rights and if they advocate too much for their clients, will find themselves being disbarred, loss of their livelihoods and criminally charged sui generis by Union NGO Non-profit Corporation, that has been wrongfully delegated state prosecutorial and investigatory law enforcement powers.
SOLUTION
Arizonians supporting Hamadeh "Take Action Now" by submitting Demand Letters to the Arizona House of Representatives Judiciary Committee, to remove purported Judge Jantzen.  
Along with Demand intervention by the Judiciary Committee to implement a New Trial for Hamadeh, since purported Judge Jantzen is illegally seated since 2019. 
###