FOR IMMEDIATE RELEASE

Sentencing News
Moffatt Media, Palmdale, California
Updated 10/21/2022:   Listen –
Locked In & Moffatt Media are proud to announce a Coalition Sentencing Reform project:  "STOP EXCESSIVE SENTENCING."  
Amid Sentencing Reforms towards Youth/Adults at Post Convictions and Pretrial.
HOW:  "We start one inmate at a time," says Locked In & Moffatt Media.
WHY:   Because "Excessive Sentencing," does not make ANY 21st Century common sense.
Behind Justice Example #1
Carl Robinson, an inmate within California State Prison (CFT), was sentenced to 105 years in Prison.
Locked In and Moffatt Media, mutually agree that our current American Criminal Justice system,  induces  Human Rights Violation in the form of  Genocide.
By targeting, a certain race of people being minorities, disabled and the poor.   The specific targeting causes "EXCESSIVE SENTENCING." 
Logic does not hold that Robinson a Black American Male inmate at (CTF) Prison, will NOT live out a 105 year sentence.   Because according to the Center for Disease Control (CDC) Mortality Tables,  males within the United States Total Life Expectancy:  age 74.2.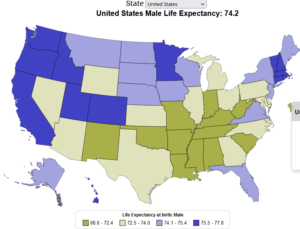 Source:  https://www.cdc.gov/nchs/data-visualization/state-life-expectancy/index_2020.htm
 Public Interest Concern Question –
Why does the United States Criminal Justice System and California sentence people like Robinson, past his determined (CDC) Life Expectancy?
Now Locked In & Moffatt Media's, "Call to Action" invites you, your loved ones and friends to join hands with us for true Sentencing Reforms that make common sense.   
"STOP EXCESSIVE SENTENCING," past one's Life Expectancy.
Also reduce Fiscal Impact of direct, current, medical and public costs associated with housing Robinson and other inmates throughout the United States past their  Life Expectancy.
Locked In and Moffatt Media … do NOT expect the United States Criminal Justice System to continue imposing inhumane Third World Justice, that erodes public confidence.  
"Press Release Tribute" to my surviving father on this  day of his Birthday 10/10/2022.  ~ Star Moffatt CEO/Founder of Moffatt Media.