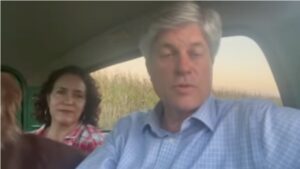 FOR IMMEDIATE RELEASE
("Prosecutor News")
Moffatt Media, Palmdale, California
Indictment was filed on October 19, 2021, against Fortenberry, Former Nebraska Congressman.  The Indictment filed by Tracy Wilkison, United States Acting Attorney General ("Prosecutor"), was invalid.  Because Wilkison's  TERM EXPIRED, under the Vacancy Reform Act of 1998.
There also existed an impossibility in Wilkison filling the shoes within the United States Attorney General's position because she had NOT received a Presidential Nomination from President Biden,  pursuant to 5 U.S. Code §3345.   Wilkison was also not Senate confirmed.
Wilkison did NOT even receive ANY Nomination by Donald Trump, Former President to fulfill the United States Attorney General shoes for Central District.
Recent 10 28 2022 9TH CIR CT APPEAL FILED BY FORTENBERRY  within the U.S. Court of Appeals for the Ninth Circuit, is likely to be granted for improper Venue and problems with Jury Instructions.    
Along with granting Fortenberry's appeal following an "unprecedented prosecution in which the Department of Justice hauled a sitting member of Congress across the country to stand trial in a foreign jurisdiction on charges of making false statements more than a thousand miles away."
The appeal cites two key reasons for the conviction to be overturned: improper venue for the case, with the allegedly false statements being made in Nebraska and Washington, D.C.,  Charges filed in California and inadequate jury instructions that failed to appropriately define a key element of the charge; and the materiality of Fortenberry's statements.
The case against  Fortenberry never should have been brought in the first place.   Criminal charges should have not resulted in California or a conviction, said Glen Summers.   Summers, a leading member of Fortenberry's legal team and partner with Bartlit Beck LLP.  "This appeal calls on the Ninth Circuit to vacate these convictions to protect Fortenberry and other Americans from having their Constitutional rights trampled."
FBI agents knew Jeff Fortenberry had no knowledge of illegal contributions to his campaign from a 2016 fundraiser. So, they directed an informant to call him years later and make a few comments in a roughly 10-minute phone call suggesting that people might have made improper contributions at the event.
Nine months later, the very same FBI agent who orchestrated the setup call went to the Congressman's home in Nebraska and used a "ruse" that he was conducting a background check with a national security aspect to convince the Congressman to speak with him.
Even though the Congressman told the FBI agent about the comments from the informant, both at the first conversation and again in a subsequent interview in Washington, D.C., prosecutors indicted the Congressman for allegedly making false statements to them when he failed to recall some details of the nearly year-old conversation and explained that he was not "aware" of any illegal contributions to his campaign.
Prosecutors with the Department of Justice (DOJ) charged Congressman Fortenberry in Los Angeles. 
(DOJ) Prosecutors required Fortenerry to stand trial in Los Angeles, California Central District United States Federal Court.  Even though the alleged false statements were made at interviews conducted in Lincoln, Nebraska, and Washington, D.C.  Fortenberry asserts on appeal that subjecting him to prosecution in Los Angeles was contrary to law.  Subjecting Fortenberry within the wrong Venue (Jurisdiction) and requires that the conviction be set aside.
In Fortenberry's appeal brief, the conviction should also be set aside.  Because the trial judge gave the jury instructions that inadequately defined critical elements of materiality.  Lacking elements then allowed the jury to convict Fortenberry.   Even though the alleged false statements could not possibly have had any impact or injury on the government.
For a statement to be material, eligible for a false statements charge,  such law requires it to influence governmental decision.
Fortenberry's statements were not material to the government's investigation.  Since prosecutors already knew from their own investigation, that Fortenberry had no knowledge of the illegal contributions to his campaign.
Jury Instructions Why Important "Voice Removed" Lawyer Connie Reguli, Listen
###